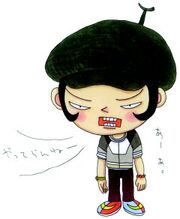 U-1 is the protagonist of Gitaroo Man. He's an aimless, pathetic loser whose only dream is to become a good enough skateboarder to impress Pico, despite constantly being bullied by Kazuya. One day, his dog Puma teaches him the art of Gitaroo, forcing him on a journey to Planet Gitaroo.
Once there, he meets Kirah, and begins to fall in love with her. After facing The Sambone Trio and Gregorio III, he is finally able to assert himslf and face off against Zowie, unlocking his True Gitaroo Man form.
His name is pronounced "Yuichi" in the Japanese version, and "Ewan" or "You won" in the US version.
Ad blocker interference detected!
Wikia is a free-to-use site that makes money from advertising. We have a modified experience for viewers using ad blockers

Wikia is not accessible if you've made further modifications. Remove the custom ad blocker rule(s) and the page will load as expected.