Elite Beat Agents
Talk

0
50pages on
this wiki
This page is about the game. For the group with the same name, see Elite Beat Agents (group).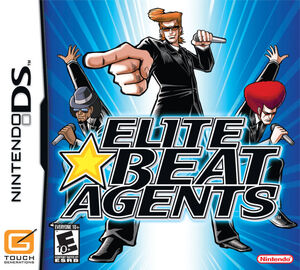 Elite Beat Agents is a rhythm game for the Nintendo DS as part of the "Touch! Generations" label in North America.
Plot summary
Edit
Enter Elite Beat Agents: A team of cheerleaders dressed in black suits that help people by dancing. No plot until the end, when aliens come and try to ban music. Everyone the EBA helped, and the whole world actually, use the power of music to defeat the aliens.
Episode List
Edit
Bonus:
Track listing
Edit
All of the tracks that appear in Elite Beat Agents are cover versions (cover artists in parentheses).[1]
The following three songs are unlockable within the course of the game by achieving cumulative high scores across all difficulty levels and stages. As certain high score totals are reached, the player will move up in rank, and by achieving certain ranks, a bonus stage and song is unlocked. In the order in which they are unlocked, they are:
Cher - "Believe" (by Lynn Rose)
The Jackson 5 - "ABC" (by TC Moses and Brittany Kertesz)
Destiny's Child - "Survivor" (by April Harmony)
Characters
Edit
Main agents
Edit
Main helped characters
Edit
Secondary characters
Edit
External Links
Edit