An expert in many styles of dance ranging from hip-hop to ballet, J can mesmerize any living thing.
- Elite Beat Agents instruction manual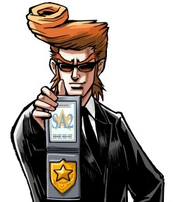 Agent J (BA-2) is a member and primary representative of the Elite Beat Agents.
Agent J is the lead dancer for Crusin', or Medium mode. He is well known for his flamboyant hairstyle; a rather large, swirly, strawberry-blonde pompadour styled to the left and fanned-out, J-shaped sideburns. He also has orange and black two-tones shades to match his hair.
Appearances
Edit
Elite Beat Agents: Leader on Cruisin' difficulty.
Ouendan 2: Replaces Ryuta Ippongi on Kakan ni Ouen in EBA Mode. Also a playable character in Multiplayer mode (fills the empty slot on the Yuuhi Town character sheet) when EBA Mode is downloaded.
[S][Brothers Brawl]: EBA trophy, J sticker.
Ad blocker interference detected!
Wikia is a free-to-use site that makes money from advertising. We have a modified experience for viewers using ad blockers

Wikia is not accessible if you've made further modifications. Remove the custom ad blocker rule(s) and the page will load as expected.